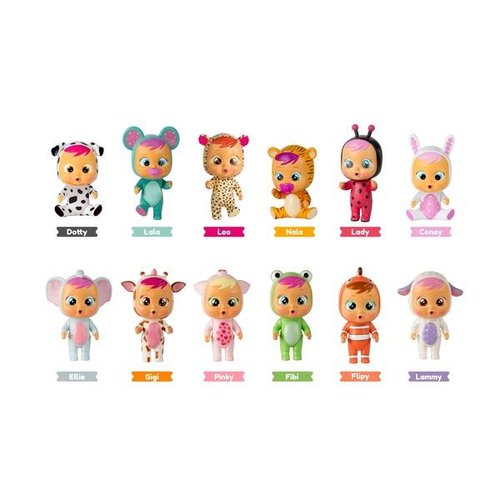 Cry Babies
Cry Babies - Serie s1
Discover the magical world of Cry Babies Magic Tears! Open the bottle house and discover which cute baby you have. When the baby has drunk from his bottle he can cry real tears.
The content is random, choosing is not possible
Collect all 12.
Wubble Bubble Ball
Super Wubble Bubble Bal - Blue
Article code
NS20166.4390
Looks like a bell, plays like a ball. The wonderful Super Wubble Bubble Ball cannot be compared to any other ball. It is made of Xpandium ™, strong and stretchable material. Inflates to approx. 80 cm in diameter. Note: Must be pumped with an electric pump
Oui-Oui
Noddy - Investigation Kit
A kit to do the research! Contains binoculars, a board, a button to attach to a t-shirt and a magnifying glass.
Trash Pack
Trash Pack Series 1 - SALE
*** Damaged packaging, content intact ***
Build your collection of Trashies with this awesome set of 5!
Note: Random Content
Disney
Stitch Slippers (Size 27-28)
Nice warm Stich Booties at your feet. From the popular Disney Film Lilo and Stitch.
Fur Real Friends
Starlily - My Magical Unicorn
Magical interactive unicorn, Touch her, speak to her and she responds with more than 100 combinations of sounds and movements.
**************** Note: French version of this article *********************
Littlest Petshop
Get Better Centre (Large)
Everything you need to bring and keep your pets in top condition again.
Mine It
Diamond
Become a real treasure hunter with mines! Chop away through the Diamond with your hammer and chisel to find one of the six gems. You can also hit a real piece of gold, because only 1 box on every 24 contains a real piece of gold!
Beyblade
Poison Virgo
Beyblade metal spinning Top
Minecraft
Overworld Survival Pack
The Minecraft Player Survival package offers everything a new player needs to start.
Spider- Man
Spider-Man Flip Up Mask
Take the role of super hero Spiderman. This mask is partially foldable. The top is of a stronger plastic material, and the lower end is of flexible material. You can fold the bottom to partially reveal the identity of Spider-man!
Clementoni
Underwater Howard Robinson 6000 Pieces - SALE
*** Damaged packaging, content intact ***
Package dimensions: 33 x 30.5 x 6.7 cm (lxwxh)
Beautiful puzzle of 6000 pieces, dimensions: 168 cm x 118 cm.