My Little Pony
Pinkie Pie - RC Scooter
Cuddly remote control scooter for my Little Pony, with fun light and sound effects. Download the My-Little-Pony app on your device for even more Pony fun!
Dimensions scooter including pony: approx. 20 x 18 cm.
My Little Pony
Canterlot & Seaquestria Castle
Play adventures from My Little Pony The Film with Queen Novo and Spike the puffer fish in this 2-worlds-in-1 play set. Put the figures on the slide and let them descend to the Seaquestria kingdom, or put them on the dance floor and turn the tower to prete
My Little Pony
Crystal Empire Castle
56 cm high is this beautiful My Little Pony castle, it is illuminated with 3 AAA batteries (not included). With lots of fun accessories and the My Little Pony figures Princess Cadance and Baby Flurry Heart.
My Little Pony
Storm King and Grubber
From the My Little Pony movie: Storm King and his Sidekick Grubber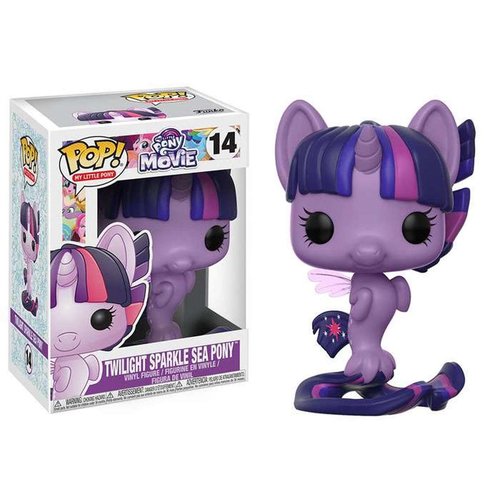 My Little Pony
Funko Pop - Twilight Sparkle Sea Pony - No 14
Twilight Sparkle Sea Pony from the My Little Pony Film as a Funko Pop Figure.
Size: approx. 10 cm
My Little Pony
Equestria Girls - Movie Theater
Juniper Montage goes to the cinema, she buys popcorn and a drink. 'Make' the popcorn fresh in the popcorn machine. Press the button to make the popcorn pop.

Use your own tablet or smartphone as a movie screen! Suitable for devices with dimensions of 24