Transformers
Robots in Disguise - Combiner Force - Ultra Bee
4 Cars and a robot. Combine them to make 1 large Ultra Bee together. Transform the Robot into a fast racing car! When combined, Ultrabee is approx. 24 cm tall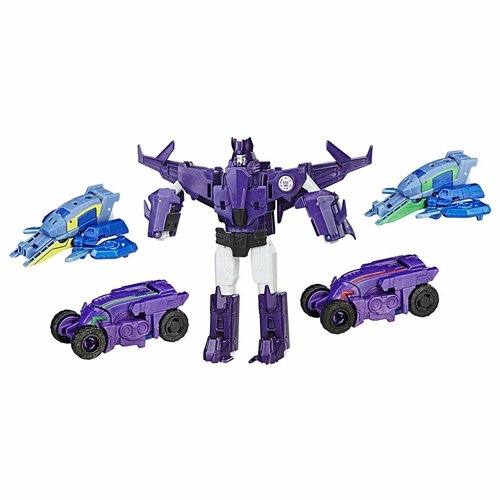 Transformers
Robots in Disguise - Combiner Force - Galvatronus
4 Transformer vehicles and a robot. Combine them to make 1 large Galvatronus together. Transform the Robot into a Cyclonus vehicle! With handy click system and a free app that you can download for even more Transformers fun.
Combined Galvatronus size: ap
Transformers
The Last Knight - Optimus Prime - Premier Edition
Transform this 25 cm high Optimus Prime in 20 steps from robot to truck.
In luxurious Premier Edition version.
Transformers
Tribute - Evolution 3 - Pack - Bumblebee
3 different Chevrolet Camaro versions of Bumblebee in beautiful garage packaging.
1. Chevrolet Camaro from 1977, change this classic Chervrolet in 12 steps to Bumblebee.
2. Chevrolet Camaro from 2016, with Performance Design, in 17 steps you can change
Transformers
The Last Knight - Dragon Storm - Premier Edition
Transform the fearsome Dragon Dragonstorm in 27 steps to Dragonicus and back to dragon. Or in 26 steps to the heroic Stormreign.
Dragon storm is approx. 25 cm high.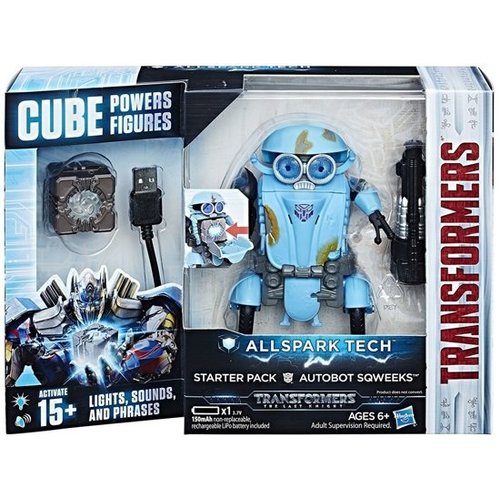 Transformers
Allspark Tech - Starter Pack
Allspark Tech Starter Pack with Autobot Sqweeks figure.
With the Allspark Tech Power Pack you can bring Allspark Tech Transformer figures to life with movement, light, sound and speech. This starter pack contains the Allspark Cube and an Autobot Sqweeks